Day 5 28/04, Sat

1000 hrs: After intercontinental breakfast at hotel, we set off for the tourism center at Tainan Train Station, where we got information on how to travel round Tainan City by their local bus, which has much info online too, http://ebus.tncg.gov.tw/

With the local bus guide (which shows you all bus stops of each bus), we set off for one of Tainan's first class historic site (一级古迹), Old Fort of Anping (安平古堡). We caught the City Tour Bus 99 (1 hr interval) round the corner of our hotel, which took only about 25 minutes to reach. Along the way, the friendly bus driver pointed out to us many other interesting sites as well.

(You can get "package" tickets at NT$60/pax, which allow you to take any buses in the city for the day.)

(Do bring along your student ID and check for concession rates at tourist sites, NT$25/student)
Cannon at Anping Old Fort(Defense and last stronghold of the Dutch in 1600s)
1230hrs: After the Old Fort tour, we spent the next hour miggling in the old street at 古堡街, getting souvenirs for ourselves and our friends. Someting not to be missed is also the smooth bean curd at 137 Anping Road, 安平周氏豆花。 They also served other desserts like 红豆冰 (Shaved Ice with Red bean and Condensed Milk). Tasty...
| | |
| --- | --- |
| | |
| Souvenirs that are bought from 古堡街。 The small little embroided bags come with one of the following items tied on it, a "knot", 八卦 and a gold coin, symbolises love, safety and luck ($$$) respectively. | 安平周氏豆花 |
1400hrs: Our next stop was Chihkan Towers (赤坎楼), another first class historic site.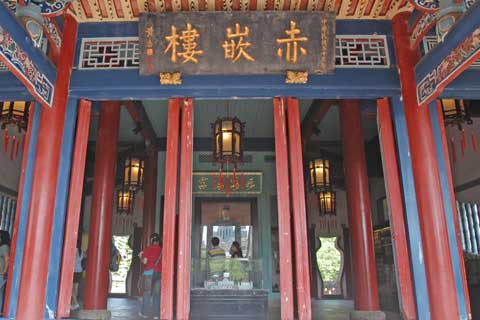 赤坎楼(Began as an administrative area by the Dutch... 1st place which fell to 郑成功)
1530hrs:
After a morning at couple of historic sites(since Tainan is the first City of Taiwan), we moved on to Kaohsiung高雄 by train.
Decided on DRC(区间), which is their local express, and takes slightly longer and cheaper.... ....
1650hrs:
Reached 高雄,got a map from travel info counter, and visited Liuhe night market(六合夜市)(15mins walk away, and enjoyed some food!!
With my crave for toufu, got my 2nd serving of 臭豆腐 frm 六合, and from the same stall that me and Sng(army pal) took 2 servings, 6yrs ago! Talk about old stalls...
Giant Squid... Not a fan of seafood, but Corine heard it was nice,

and went for a serving...

Turned out to be too chewy, even for her standards,

and kinda tough on the tooth.
1950 hrs:
Back to Tainan via 自强 train this time... ...
Next 4 days, Taipei, 台北!! Beitou-北投, YangMingShan-杨名山, Ximending-西门町, Shilin-士林, etc...
****Lessons on train ride in Taiwan were learnt today.

1) Trains like DRC(区间) and Normal Express(普通), are cheaper by NT$30, and stops at more stop... and NO designated seat, and feels juz like our MRT. Not too bad if you travelling for 30mins or so, but standing for 50mins on a pack train can kill. Luckily didn't buy those when we are on full backpack.

2) Tzeqiang(自强, zi qiang) and Chu Kuang(莒光, chu guang),are only slightly more expensive, butz most of the time offers designated seat, and plenty of space fo lugagge.

3) If you buy tix from the automated computerised machine, for those trains with seat, do take note that seats are allocated before paying... Cuz actually they allow tickets to be sold, without seat.
Happened to us, was buying tomolo's tix, and paid, then recognised abt the prob. Butz when to 高雄 station, approached the friendly officers, and managed to exchange tix for an early ride, with nice comfy seats... almost 5hrs ride tomolo leh....