Day 1 24/04, Tues
13:00 hrs: Departure from Changi Airport onboard Jetstar
As Jetstar does not provide free entertainment nor food, we prepared our own entertainment and snacks(officially not allowed, but who cares...)

| | |
| --- | --- |
| | |
| The flight attendees will announce 'no outside food allowed', but we had mineral water, and some Kueh frm Bengawan Solo, juz do it. | Downloaded Mobtv, for entertainment... Showing here is <Maggi & Me> |

*Budget Airline Tip{special thanks to Lingkai and Si Da): We checked in early(2~2.5hrs), and got the seats on the emergency exit row(12 & 13). This will give you 100% more leg space, as presented below...

| | |
| --- | --- |
| | |
| @ Emergency Exit row, where we sat.(not us in the photos) | Limited leg space(regular row) |
1730hrs: Arrived in Taipei Taoyuan International Airport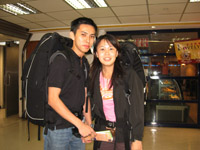 1800hrs: Benz to Taipei Main Train Station, got grabbed by nice uncles, and since we were rushing why not… NT$1300
1900hrs:
1 hour to Taipei Main Train Station as promised by the driver….Next train to Hualien leaves at 1928hrs…
as stated in the online train schedule(http://new.twtraffic.com.tw/TWRail_en/index.aspx)
Then we rushed to get normal tickets(on 自强 train) to Hualien with return( NT$802 per pax, inclusive of 10% disc.{pays to plan early…})

After that, like amazing race style, we hunted for the High Speed Rail(HSR, 高铁) counter, only to find it with long queue… needed tix for Day 3 travel frm Taipei to Chiayi(NT$1080 per pax, 1/2 travel time @ abt NT$300 premium) .… HSR info @ http://www.thsrc.com.tw/

Fortunately we found another automated ticketing machine(Basement 2), and with the help of their friendly staff, managed to grab the tix at about 1920hrs.
Grab some snacks at 7-11 and boarded the train with only a minute to spare… … exciting…

| | |
| --- | --- |
| 2.5hrs train ride, muz grab some food lar... | 自强 train, quite comfy, with head space for bags. |
2213hrs:
Arrived in Hualien(花莲).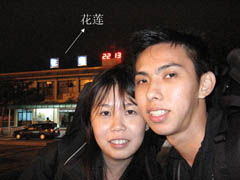 Made a 10min stroll(with 10+ kg on our backs) to Duo Romance(多罗满,http://www.drmmotel.com.tw/ ).
As featured, the room equipped with 46" plasma, and Jacuzzi tub comes @ only NT$1980 (breakfast included)...
| | |
| --- | --- |
| 46" plasma, too bad won't be able to catch Heats vs Bulls tomolo morning... | Less than 100SGD a nite with Jacuzzi, where to find? |

2300hrs:
Unpacked, walked around abit for water, supper(quite dull here actually), and back to hotel to write this… …
0100hrs, done. Cya, Tomolo, visitng ruishui with bicycle, farms, and hot spring.